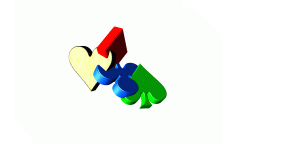 Bridgeware has been providing the world bridge community with quality bridge software for 19 years.. Our software features state-of-the-art Artificial Intelligence, and with Simulation Bidding. Bridge Buff is now scalable! We don't think you can purchase bridge software anywhere that has this range of features and excellence! Download the Bridge Buff demo and see for yourselves. Included in the Bridge Buff package are Bridge Buff, Visual Deal, Convention Card Editor, Bid Buddy, Bid Sequencer, Pip Converter, System Builder, and the NEW Matchpoint Analyser, which will make you a better matchpoint player, more info here.
Bridge Buff is the ideal program to practice your bidding skills. You can even practice specific kinds of deals as explained here.
The price for all products combined is $59.95 (US or CAN). The package upgrade price for users with previous versions is $49.95. The price for a stand-alone Matchpoint Analyser is $29.95. You can download, or we will mail a CDROM for $5 anywhere in the world.
System Requirements
Bridge Buff products run under Windows 7, Vista, Win98, WinNT, XP. You might have issues with later Windows versions (Windows 7, Vista) for the Convention Card utility (we will point you to another source). Minimum requirements are a Pentium 200 or equivalent with 16 Megs RAM. Faster is better.
Questions and Answers after installation
Go here to resolve any issues you might think you have.